GTA Concert Offers an Unforgettable Jazz Experience!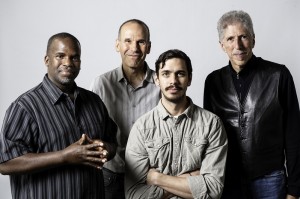 Time-honoured jazz ensemble, Yellowjackets, has been entertaining audiences for over 30 years with its contemporary smooth jazz arrangements and innovative instrumental recordings. One of the premiere modern jazz ensembles in North America, Yellowjackets brings its concert to the Flato Markham Theatre on Friday, January 30 at 8 p.m.
Comprised of four members, keyboardist Russell Ferrante, saxophonist Bob Mintzer, drummer William Kennedy and newest member, bassist Felix Faxotius, Yellowjackets will perform an incredible evening of instrumental jazz that will leave the audience breathless. The group has been recording music for 32 years and their latest album, the 2013 release A Rise in the Road, is described as a10-track study that burnishes the group's sterling reputation for high quality tonal explorations and ensemble execution.
With an astounding 17  Grammy® Award nominations and two wins, one for the 1989 album Politics for "Best Jazz Fusion Performance" and the other for the 1986 record Shades for "Best R&B Instrumental Performance," Yellowjackets continue to create ground-breaking music that re-defines the traditional jazz standard.
In 2010, Yellowjackets signed to Mack Avenue Records and in 2011, released Timeline, which reached # 5 on Billboard's jazz chart. The title cut received substantial national jazz radio airplay, making the song a staple on Billboard's "Smooth Jazz Songs" chart.
Yellowjackets is part of Flato Markham Theatre's All That Jazz Series, which is sponsored by Minken Employment Lawyers. The media partners for this concert are JazzFM.91 and the Wave.FM.
Yellowjackets: Friday, January 30, 2015, 8 p.m.; Tickets: $69 – $64
Visit www.markhamtheatre.ca or call 905-305-SHOW (7469)
Andrea Smitko, Events Promotions Assistant, Flato Markham Theatre
(905) 415-7537 ext. 5700 / asmitko@markham.ca 
For more information about the Flato Markham Theatre, please contact:
Wendy Woof-Severn, Marketing & Development Manager
(905) 415-7537 ext. 5580 / wwoof-severn@markham.ca
The Season Media Sponsor is the Markham Economist & Sun. Media Partners also include:
Asian Television Network (ATN), Rogers TV, Today Commercial News, York Media Group, JAZZ.FM91, Classical 96.3FM, AM740, The Jewel 88.5FM, Durham Radio, Wave.FM, Update Weekly, and Fairchild Radio AM 1430.

About Flato Markham Theatre:
Flato Markham Theatre is a jewel in the crown of the Markham community located only 30 minutes from the downtown core. The intimate, 527-seat, state-of-the-art performance facility provides patrons with unforgettable access to a host of internationally acclaimed artists and productions through its annual Diamond Series Season presented by Weins Canada. Illuminating the central theme that live arts in Markham matters, the season features the best of classical, jazz, world music, dance, comedy, pop artists, and family entertainment. Flexible ticket package options and complimentary parking are available.


About Markham:
Markham, a municipality with more than 330,000 residents centrally located in the Greater Toronto area, is home to 400 corporate head offices and 900 high tech and life science companies. Founded in the 1790s, today Markham is Canada's most diverse community, enjoys a rich heritage, outstanding community planning and services, and a vibrant local economy. Markham has received the Excellence Canada PEP III Integrated and Accessibility Awards, and multiple heritage and environmental awards. Markham is proud to be an official Host City for the 2015 Pan American and Parapan American Games.