Make Energy Bird Friendly
by Harrish Thirukumaran
Arguably, when it comes to enabling a sustainable natural environment in our current society, human efforts must afford a focus on protection of animal species. Along these lines, World Migratory Bird Day (WWBD) implicitly exemplifies this ideal in the case of bird life throughout the globe. Uniquely, it is a two-day international event, observed on May 9 and 10, as designated by the United Nations.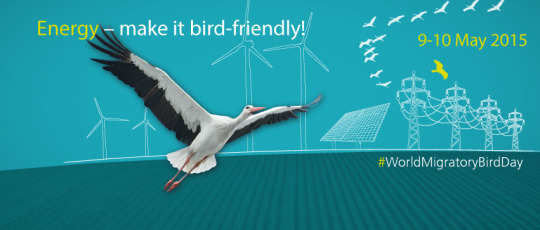 The UN officially enacted this global environmental initiative back in 2006, as a proactive education campaign for global citizens. As for material, it seeks to explain the importance of conserving migratory birds and their habitats. More specifically, this event was created through the Secretariats of the Agreement on the Conservation of African-Eurasian Migratory Waterbirds and the Convention on the Conservation of Migratory Species of Wild Animals. If one were to interpret, World Migratory Bird Day acts as a key mechanism for these international laws to remain relevant and effective in their fundamental purposes throughout many lifetimes.

Individuals are able to both celebrate and learn of the different types of migratory birds across the world. Such magnificent birds include the Canada Warbler, Canada goose, Black-capped Chickadee, European turtledove, Yellowhead Blackbird, Red-bellied woodpecker, Andean flamingo, among an even greater range of species. To symbolically mark this occasion, a variety of recreational and social activities are normally held to promote bird conservation, while upholding their enduring presence in our environment. Bird watching and bird-counting tours, educational workshops, festiva,and exhibitions are a few examples of the activities that circulate throughout various communities. Furthermore, individuals even have opportunities to develop their own special activities related to bird conservation in commemorating the uniqueness of migratory birds on these days.
Located in schools, parks, town halls, education centres, or nature reserves, these activities are extremely helpful ways to understand the characteristics of migratory birds, and how they can be thoroughly protected, alongside their habitats. For the 2015 edition of these days of observance, it contains a theme concerning the impact of energy production on migratory birds. Accordingly, as our society moves toward renewable energy production to combat climate change, the health of migratory birds must be considered in the continued development of sustainable energy technologies for Earth's long-term benefit. As such, birds have unintentionally become victims from a few methods in creating energy that is actually environmentally friendly.
Whether it is electrocution from power lines, or habitat degradation due to hydropower, geothermal, solar, wind, and ocean energy development, migratory birds have suffered collateral damage from renewable energy projects because they are not factored in them. In line with bird conservation, like our natural environment, migratory birds must always be considered in the production of renewable energy technologies. This WWBD campaign has advocated an emphasis on more rigorous risk assessments, planning, and design of renewable energy projects. Additionally, national governments, the energy sector, nature conservation organizations, and the general public each have a distinct role to play in bird conservation, complementing each other in collectively achieving this goal.
This 10th edition of World Migratory Bird Day should be one where we solidify the essential foundations for building sustainable energy that mutually benefits our beloved planet Earth and glorious array of migratory birds.