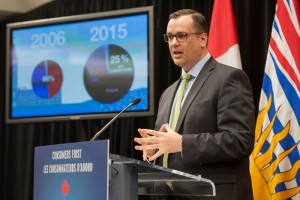 Harper Government announces new measures that will provide Canadians with more choice, lower prices and better service
On December 18, 2014, in Vancouver, British Columbia, Industry Minister James Moore announced new measures that will make more spectrum available to Canadians than ever before.
By May 2015, the amount of spectrum available to provide mobile services to consumers will have grown by almost 60 percent since early 2014. This is the largest amount of spectrum ever released in such a short time in Canada, allowing Canadians and their families to benefit from the latest technologies and world-class services.
Canadian consumers rely on their smartphones and tablets to connect to people and information instantly. These hand-held devices depend on spectrum—an invisible infrastructure on which wireless information travels—to communicate wirelessly. Today's announcement brings Canada to the forefront of spectrum availability, ensuring Canadian consumers have access to world-class wireless networks.
To deliver on this achievement, the following new measures were announced:
The AWS-3 spectrum auction will begin on March 3, 2015, to enable the delivery of fast, reliable service on the latest smartphones, tablets and mobile devices and to encourage sustained competition.
The Government will be seeking views on making a new band of spectrum, 600 MHz, available for mobile use.
A path will be provided for mobile use in the 3500 MHz spectrum band, while maintaining existing fixed-wireless Internet services in rural areas.
A plan will be developed to enable use of the AWS-4 spectrum band so that a new competitor can offer more choice to Canadians, especially those in rural and remote areas.
An additional 2100 MHz of spectrum will be made available to support the infrastructure wireless companies need to deliver the services that Canadians want.
A more efficient and consistent process for new licences in the 24, 28 and 38 GHz bands will be established.
Once this new spectrum is licensed, its licence holders will be subject to Canada's strict conditions of licence that make it clear that any companies which do not use this spectrum will lose it.
The Government's actions on spectrum and other telecommunications issues have had a positive effect: there is more competition today, and wireless prices have fallen on average 22 percent since 2008.
In 2006, 98 percent of mobile spectrum was concentrated in the hands of Canada's largest wireless companies. By May 2015, new competitors will have an opportunity to hold over 25 percent of total mobile wireless spectrum.
In April 2014, the Government launched Digital Canada 150, a bold vision to make Canada a leading digital nation by 2017, which includes actions to ensure robust digital infrastructure, both wired and wireless.
"Spectrum is essential to power our wireless devices, and our government is making it more available than ever before. The end result is that Canadians will benefit from more competition, lower prices and better service in our wireless sector. The Harper Government is committed to delivering competitively priced wireless services on the latest technologies."
– James Moore, Minister of Industry
"Xplornet is pleased that the Minister has today affirmed his continued commitment to consumers by acknowledging that the 3500 MHz spectrum plays a fundamental role in connecting rural Canadians to all the advantages of the digital world. This decision ensures that the 3500 MHz spectrum continues to be available to provide fast and affordable Internet service to Canadians."
– Allison Lenehan, President, Xplornet Communications Inc.