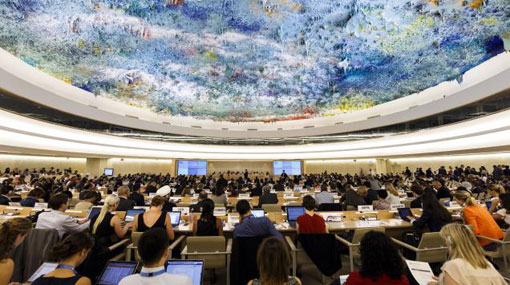 By Siva Sivapragasam
The new UN resolution on Sri Lanka that was submitted to the UNHRC last Thursday, (Sept 24th), has been adopted without a vote as part of the proceedings of 40th meeting of the UNHR Council's ongoing 30th session. Sri Lanka also co-sponsored the resolution since consensus was reached over its content.
Foreign Judges, defence lawyers, prosecutors & investigators in the judicial mechanism
The resolution while welcoming the government's recognition on an accountability process to uphold the rule of law, affirms the importance of having independent judicial and prosecutorial institutions led by personnel known for integrity and impartiality and has further noted the 'importance of participation in a Sri Lankan judicial mechanism, including the Special Counsel's office, of Commonwealth and other foreign judges, defence lawyers, and authorized prosecutors and investigators'.
25 more additional sponsors this time
The resolution titled 'Promoting reconciliation, accountability and human rights in Sri Lanka' was submitted before the Council last Thursday following a series of negotiations between the Sri Lankan delegation and the 'Core Group' sponsors to which included delegations from Albania, Australia, Germany, Greece, Latvia, Montenegro, Poland, Romania, the former Yugoslav Republic of Macedonia, UK, Northern Ireland and the US. The resolution also enjoyed the support of 25 more additional co-sponsors.
Sri Lanka's progress in implementation of recommendations will be monitored
The resolution has also recognized the need for accountability and reconciliation process for the violations and abuses committed by the LTTE as highlighted in the recently released OISL (OHCHR Investigation on Sri Lanka) report. The resolution has also called for the OHCHR to continue to monitor Sri Lanka's progress in the implementation of its recommendations and other relevant processes linked to reconciliation, accountability, and human rights and calls for the High Commissioner's Office to present an oral update to the UNHRC at its 32nd session as well as a comprehensive report followed by discussion on the implementation of the present resolution at its 34th session.
U.S. & U.K. hail the adoption of the resolution
The United States and Britain hailed the adoption of the "historic resolution" on Sri Lanka at the UN Human Rights Council today.
The US Ambassador to Geneva Keith Harper said that the consensus resolution expresses international support for Sri Lanka as it takes courageous steps to strengthen democracy and restore civil liberties
The United Kingdom, which co-sponsored the resolution said the resolution sets Sri Lanka on a new path towards reconciliation and a more prosperous and inclusive future.