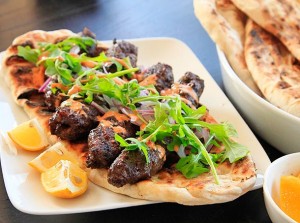 By: Chefnate 






Turkish cuisine is largely the heritage of Ottoman cuisine, which can be described as a fusion and refinement of Central Asian, Middle Eastern and Balkan cuisines. Turkish cuisine also influenced these cuisines and other neighboring cuisines, as well as western European cuisines. The Ottomans fused various culinary traditions of their realm with influences from Middle Eastern cuisines, along with traditional Turkic elements from Central Asia such as yogurt. The Ottoman Empire indeed created a vast array of technical specialties. It can be observed that various regions of the Ottoman Empire contain varying selections from the vast array of Ottoman dishes.
Taken as a whole, Turkish cuisine is not homogeneous. Aside from common Turkish specialties that can be found throughout the country, there are also many region-specific specialties. The Black Sea region's cuisine (northern Turkey) is based on corn and anchovies. The southeast—Urfa, Gaziantep and Adana—is famous for its kebabs, mezes and dough-based desserts such as baklava, kadayıf and künefe. Especially in the western parts of Turkey, where olive trees are grown abundantly, olive oil is the major type of oil used for cooking. The cuisines of the Aegean, Marmara and Mediterranean regions display basic characteristics of Mediterranean cuisine as they are rich in vegetables, herbs, and fish. Central Anatolia is famous for its pastry specialties such as kashkak, mantı (especially of Kayseri) and gözleme.
The name of specialties sometimes includes the name of a city or a region (either in Turkey or outside). This suggests that a dish is a specialty of that area, or may refer to the specific technique or ingredients used in that area. For example, the difference between Urfa kebab and Adana kebab is the use of garlic instead of onion and the larger amount of hot pepper that kebab contains.
Frequently-used ingredients in Turkish specialties include: meat, eggplants, green peppers, onions, garlic, lentils, beans, tomatoes. Nuts, especially pistachios, pine nuts, almonds, hazelnuts, and walnuts, together with spices, have a special place in Turkish cuisine. A great variety of spices are sold at the Spice Bazaar. Preferred spices and herbs include parsley, cumin, black pepper, paprika, mint, oregano and thyme.
The Turkish Kitchen is without doubt one of the richest and most varied in the world. Turkey is self sufficient, and a net exporter of food. The range of vegetables and fruits available throughout the year provides a constant source of fresh produce. The taste and preparation of the wide variety of dishes therefore changes with the seasons. There is never a reason to use tinned, preserved or frozen produce, unless it is to achieve a specific taste. The style of Turkish food owes some of its origins from the nomadic lifestyle of the people of this region during the reign of the Sultans. Even today the evening meal is often the evening's entertainment.
As a general rule, in most Turkish restaurants you will automatically be given a basket of bread (whether you have asked for it or not!) – Very occasionally, the more "sophisticated" restaurants may charge for this
Spicy Kofta Shish Kebab
Ingredients    
4 slices white bread, crusts removed
2 lb. ground lamb
1/2 red onion, grated
4 cloves garlic, finely chopped
2 eggs
1 tsp ground cumin
1 tsp Turkish red pepper
1 tsp ground sumac
1 tsp paprika
1/4 cup parsley, finely chopped
Salt and black pepper to taste
Directions
Cook time does not include chill time
Soak 6 skewers if using wood for 20 minutes
Soak bread in cold water until wet
Squeeze out excess water
Add remaining ingredients and mix together
Refrigerate 30 minutes.
Divide meat into 6 portions and form into oval shape
Skewers patties
Grill 3-4 minutes and flip
Grill another 3-4 minutes
ISTANBUL PILAF
Ingredients  
1 Large Size Chicken
4 Cup Water
2 1/2 Teaspoon Salt
2 Piece Chicken Lives
1/3 Cup Almond (Blanched)
6 Tablespoon Margarine
2 Cup Rice
1 1/2 Teaspoon Saffron or Safflower
1/2 Cup Fresh Peas
1/3 Cup Pistachio Nuts
Directions
Simmer chicken breast in salted water for 35 minutes or until tender. Remove from liquid; drain. Cut into shreds. Set aside. Complete volume of broth to 3 1/3 cups; reserve. Cut chicken liver into 1 cm (1/2 inch) cubes. Sauté with almonds in margarine until light brown: Stir in rice; mix well. Sauté for a few minutes. Add hot broth, salt and saffron; mix well. Cover simmer for 15 minutes. Add chicken meat and peas. Cover and simmer for 5 minutes or until rice is tender; drain. Remove from heat. Let stand covered for 20 minutes before serving. Sprinkle with pistachio nuts. Toss slightly. Serve hot.