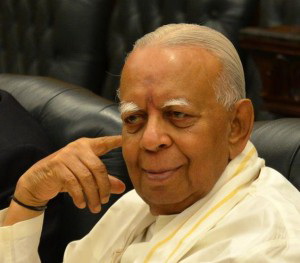 "We are loyal to this country and the people of this country". It was his party's "primary duty" to ensure that there was a "fair and acceptable" settlement of the Tamil issue.- Sampanthan in Parliament
                             By Siva Sivapragasam
History was created for a second time when TNA Leader and MP for Trincomalee Rajavarothayam Sampanthan became the Leader of the Opposition in Sri Lanka's new Parliament. Appapillai Amirthalingam of the Tamil United Liberation Front (TULF) was the first Tamil to hold the post between 1977 and 1983.
Parliament's Speaker Karu Jayasuriya informed parliament that TNA leader R. Sampanthan was recognized as opposition leader in parliament. He said no request had been made by the UPFA with regard to the post of opposition leader.
Mr. Sampanthan, joined the Ilankai Tamil Arasu Katchi (also known as Federal Party) in 1956 and was first elected to Parliament from Trincomalee in 1977 on the ticket of the TULF when general elections were held under the 1972 Constitution.
Since 2001, he has been the leader of the TNA, which now consists of the ITAK, the Tamil Eelam Liberation Organisation (TELO), the Eelam People's Revolutionary Liberation Front (EPRLF) and the People's Liberation Organisation of Tamil Eelam (PLOTE). Mr. Sampanthan has served as MP for more than 22 years.
After his appointment as Leader of the Opposition, speaking on a motion to increase the number of Cabinet Ministers to 48 and that of State Ministers and Deputy Ministers to 45, Mr. Sampanthan told the Parliament that his party would work closely with everyone to resolve the Tamil question while "we are loyal to this country and people of this country". It was his party's "primary duty" to ensure that there was a "fair and acceptable" settlement of the Tamil issue.
Mr. Sampanthan had his early education at St. Patrick's College, Jaffna St.Joseph's College, Trincomalee and St.Sebastian's College, Moratuwa. After his college education, he entered Ceylon Law College passing out as an Attorney-At-Law. After qualifying as a lawyer, he practiced law in Trincomalee. He won the Trincomalee seat in the Parliamentary elections held in 1977 and entered Parliament as a TULF member.
Sampanthan married Leelawathi, daughter of P.K.Rudra and is the father of two sons – Sanjeevan and Senthuran and one daughter Krishanthini.