by Harrish Thirukumaran
14 days. That is the time remaining before Canadians – across this vastly diverse geographic landscape choose the political party best suited to govern Canada on October 19, 2015. They shall likely begin finalizing their choice for the crucial ballot question, as the 42nd federal campaign draws to a conclusion. According to one of the latest poll numbers from Nanos Research, nationally, the Liberals lead with 35.3%, Conservatives at 31.0%, NDP, 24.3%, and the Greens with 4.5%, within 3.0 percentage points 19 times out of 20. Initially a three-way race between the frontrunner New Democrats, Conservatives, and the Liberals, the latter two parties have locked into a final showdown between the latter two parties. For the overwhelming number of voters opposed to the prospect of a fourth mandate to Stephen Harper, and his Conservative Party, they should now be identifying themselves with the Liberal Party of Canada.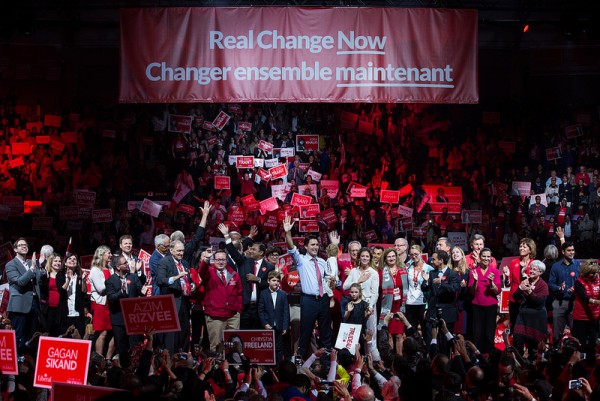 At the Rally in Brampton, Ontario – October 4, 2015 (pic via: liberal.ca)
October 4, 2015 saw both the Liberals and New Democrats mark this final stage of the volatile campaign with a few grandiose Ontario events to lockup voters' trust to replace Harper. Tom Mulcair and his NDP campaigned intensively in Southwestern Ontario, from Brantford to Essex–advocating that his government will tear up a Transatlantic Pacific Partnership trade agreement that hurts Canadian auto and dairy farming industries. Meanwhile, Justin Trudeau and his Liberals convened in Brampton at the Powerade Centre for what was touted as the biggest political rally in a generation of Canada. Attended by over 6,000 individuals, Trudeau was welcomed by a swath of supporters desiring political change in Ottawa to realign Canada socially and economically.

The event contained an electrifying atmosphere, based on the level of energy of the attendees motivated to have the Liberals emerge victorious on E-Day. Just getting to the event was considerably hectic due to the traffic, something Trudeau capitalized on politically speaking. These commute difficulties exemplified Harper's inaction on congestion and gridlock in the Greater Toronto Area, making it tumultuous to transport goods and services to market, and disrupting quality time for families, as contended by Trudeau. Although the Liberal leader's speech focused on condemning his political opponents in this race, the content was entirely directed at Stephen Harper's lackluster prime ministerial record. Observably, there were nearly zero references to Tom Mulcair's NDP, arguably highlighting the current state of the election campaign.
"Stephen Harper has nothing to offer but fear itself," said Trudeau in a passionate denouncement of the Conservative leader's unflinching political divisiveness on the niqab and terrorism debacles. Justin Trudeau even reached out to Conservative supporters dissatisfied with the ruling party, to demonstrate his conviction of a truly inclusive Canada. This can be considered one of many anticipated strategies leading up to October 19, to relocate voters into the Liberal fold for electorally defeating the Conservatives. The Liberal policy plan was also mentioned at points of the speech, where individuals can obtain further valuable knowledge by visiting the Liberal Party's website. If Canadians desperately want to close the Stephen Harper chapter of its political encyclopedia, vote Liberal for meaningful change, #RealChange that is!