Festival Expected to Draw 150,000+ Visitors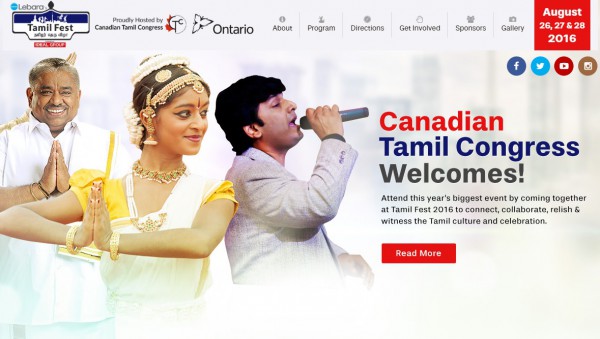 Tamil Fest, which celebrates the richness and diversity of Tamil Canadian arts, culture, cuisine, and entertainment within the Canadian landscape, will be kicking off with an opening ceremony on Friday, August 26, 2016 in Scarborough. The three-day festival runs from August 26 to 28 and is expected to draw more than 150,000 visitors from across North America.
Markham Road will be closed between McNicoll avenue and Passmore  avenue from Friday August 26th 10 am to Sunday August 28th midnight.
Hosted by the Canadian Tamil Congress, the festival will showcase local artists, musicians, chefs, and performers from across the world. This one-of-a-kind event is unique to Ontario, which is home to the largest Tamil population outside of South Asia.
One of the key attractions will include a refugee lifeboat, which holds great historical significance for the Tamil Canadian community. The lifeboat was brought to Toronto this month from Newfoundland to commemorate the 30th anniversary of the rescue of 155 Tamil refugees. In 1986, 155 Tamil refugees on lifeboats were rescued by a Canadian fishing crew. Their stories and one of the lifeboats, from which the refugees were rescued, will be featured at the festival.
http://www.tamilfest.ca