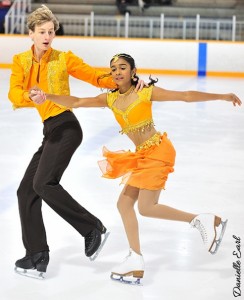 Priya Ramesh, daughter of Mr. & Mrs. Ramesh and Shivajini of Scarborough has been excelling in Ice Dancing in recent times. Priya along with her dancing partner Brandon Labelle has been selected to compete at the national level.
Priya Ramesh & Labelle have been skating together since at least 2011.They won the Canadian pre-novice bronze medal in 2013.
Energetic, friendly and outgoing, Priya's achievements include a Gold Medal in Ice Dancing at the 2012 Skate Ontario Winter Games, Bronze Medal at the 2013 Canadian Pre Novice, and placing on the Honour Roll. Priya attributes her success to the support of her family and coach for pushing her to her limits, and cites Olympic champion Tessa Virtue as a role model. Priya's goal is to compete in the Olympics on the Canadian national team, and aspires to a career as a pediatrician.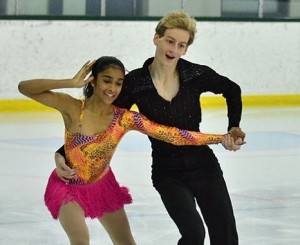 Following is a list of some of their successful performances.
• 2013 Skate Canada Central Ontario Sectionals (Barrie):
Pre-Novice Dance: Priya Ramesh & Brandon Labelle – 4th
Juvenile Women U14: Priya Ramesh (7th)
• 2012 Canadian Challenge Event: Regina, Saskatchewan
Pre-Novice Dance: Priya Ramesh & Brandon Labelle( 3rd)
• 2012 FSB Octoberfest (Barrie):
Pre-Novice Dance: Priya Ramesh & Brandon Labelle (3rd)
• 2012 Ontario Winter Games- (Barrie)
Juvenile Dance: Priya Ramesh / Brandon Labelle (1st)
• 2012 Skate Canada Central Ontario Sectionals (Milton):
Juvenile Dance: Priya Ramesh & Brandon Labelle (2nd)
By: Raymond Rajabalan