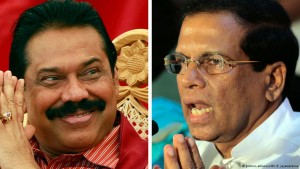 "Opposition members are forgetting one thing that it is I who will be the President of this country even after January 8. – President Rajapakse at a meeting in Elpitiya.
"Those who want to be at the right place at the right time will either stay with the government or join the government. That's all I can say about crossover rumours." – Sri Lankan President Rajapakse
Sri Lanka's Election Commissioner has pulled up the state TV for acting biased and carrying out propaganda to promote ruling party candidate in the January 8 snap presidential polls.
Election Commissioner Mahinda Deshapriya has asked the state TV Rupavahini to stick to the guidelines issued by the Commission on the conduct of media during electioneering.
Western Provincial Councilor Hirunika Premachandra and her mother, Sumana Premachanda, have left the country due to "security threats". She quit the Government party to support the Opposition common candidate.
At a meeting the Bishops had with the President regarding the Pope's visit to Sri Lanka, they asked the President what happens if he loses the election and his answer was that he will, without hesitation, hand over power to his successor.
Various groups of professionals and intellects are now preparing the ground for a debate between the two main contenders, in the upcoming Presidential Election, Mahinda Rajapaksa and Maithripala Sirisena. The proposed debate will cover subjects such as democracy, good governance, and the independence of the judiciary.
Strategy meetings are taking place almost on a daily basis at the private residence of former President Chandrika Bandaranaike Kumaratunga on the progress of the political campaign of Maithripala Sirisena, the Common Candidate of the opposition.
Common candidate Maithripala Sirisena has promised to bring back the country's Foreign Ministry to its former glory. The Common Candidate added that the foreign service is being 'ruined' by whom he termed as some lackeys of the of the first family who have been appointed to key diplomatic missions overseas.
A Muslim Deputy Leader of the Colombo District has threatened to quit government in protest of the Bodu Bala Sena's support to President Mahinda Rajapaksa.
"We are expecting a victory, a great victory," President Rajapaksa told reporters after handing over his nomination papers.
By: Siva Sivapragasam