Like watching a mystery movie thriller awaiting the outcome,Sri Lankans are seated on the edge of their seats for the result of the Presidential Election scheduled for coming Thursday.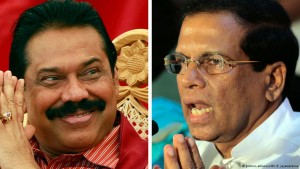 Crispy rice hoppers and spicy salad, both traditional Sri Lankan dishes were on the menu the night before when the opposition candidate Maitripala Sirisena dined with Rajapakse before he decided to cross over and contest the President. President Mahinda Rajapaksa was with long-time ally and senior cabinet member Maithripala Sirisena not knowing that Sirisena was to cross-over to the opposition the following morning.It was like Judas betraying his men after the last supper.Rajapaksa was so confident of victory that he had called for an election two years before his term ended.But the defections and cross-overs have now caught him unaware, and he has begun promising concessions — like constitutional reforms and an investigation into possible war crimes committed during the government's campaign against northern separatists — should he win a third six-year term.Sirisena is obviously banking on voters' frustration with Rajapakse and family rule to propel him to power.
Rajapakse has alleged that former President Chandrika Kumarathunga and UNP leader had plotted to oust him from the Presidentship.Speaking at a Tsunami anniversary event, former President Chandrika Bandaranayake Kumarathunge has expressed confidence in the common opposition winning the Presidential elections due to the unity of several political parties ganged up against the Rajapakse regime.
In an election related news,Former Chief-Justice Sarath N. Silva has stated that Mahinda Rajapaksa, even if he gets re-elected as third term President, his post can be cancelled through the High Court, in view of a faked document pesented to the public with forged signatures of Sirisena and Ranil Wickremasinghe of an alleged agreement between Sirisena,Ranil and the TNA.According to the Hindu newspaper,President Mahinda Rajapaksa has roped in an Indian IT expert to help with his social media campaign for the January 8 elections.Arvind Gupta, one of the chief architects of Prime Minister Narendra Modi's social media campaign in the general election, is among those offering assistance to the incumbent President in the election.
Opposition candidate Sirisena has also been gaining ground recently due to more defections from the Government party and minority support from the Sri Lanka Muslim Congress and the Tamil National Alliance.The Rajapakse side is heavily bent on increasing it's Sinhala voter base by making allegations of an agreement between the Opposition candidate Sirisena with the TNA and Muslim Congress.
The Friday  Forum, in a communication to Elections Commissioner Mahinda Deshapriya signed by Mr. Jayantha Dhanapala, Prof. Savitri Goonesekera and Ms. Shanthi Dias has appealed for some basic measures be enforced to ensure a free and fair election.The Friday Forum is an informal and self-financed group dedicated to democracy, good governance, human rights and the rule of law.
Comprehensive opinion polls suggest that the winner of this election will not be able to obtain more than 55 percent. There is also a possibility that none of the candidates would go past 50 percent – the "winning mark" where the presidential election is concerned.
Americans have a favourite saying "It ain't all over until it's all over".This is true of the Presidential Election in Sri Lanka this time.
By Siva Sivapragasam