Expected to retire & Justice K. Sripavan tipped to be appointed Chief Justice
By Siva Sivapragasam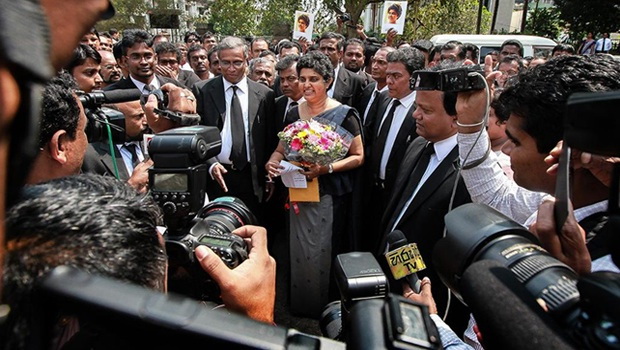 Shirani Bandaranayake has resumed duties in the office of Chief Justice and took office at the Chambers of the Chief Justice ending a running controversy regarding the position of the Chief Justice in Sri Lanka.
The President of the Bar Association Upul Jayasooriya told the Media that there had been no legal removal of her from the post. Dr. Bandaranayake arrived at the Superior Court complex at Hulftsdorp and took office at the chambers of the Chief Justice, after she was welcomed by Mr. Jayasuriya.
"There is no requirement for a new appointment therefore," he told a news conference and added that she will resign from her post tomorrow.
She had received a letter from the President's office asking her to "resume duties," on grounds that she was not impeached lawfully and therefore no vacancy existed for the post of Chief Justice.
Simultaneously, a letter had been sent to Chief Justice 44 Mohan Peiris to the effect that he had not been appointed as the Chief Justice and such appointment was void from its inception.
Earlier, a protest was organized opposite the Supreme Court, with protestors marching and shouting slogans demanding the immediate "removal" of the "Chief Justice" Mohan Peiris. Dr. Bandaranayake walked into the complex through the Justice Ministry entrance and was welcomed by lawyers present.
CJ Shirani Bandaranayake's removal was illegal due to a constitutional lapse. According to senior lawyer Saliya Pieris, "In the eyes of the law Mr. Peiris was only the de facto CJ and not the CJ in law. This is the position taken by the BASL (Bar Association of Sri Lanka) all along. As for his orders and judgments they continue to be valid in terms of Article 119(2) of the Constitution."
Chief Justice Shirani Bandaranayake is expected to retire from her post very soon and it is reliably learnt that Justice K. Sripavan, who is the most senior judges of the Supreme Court is most likely to be appointed as the new Chief Justice.