A Principal with principles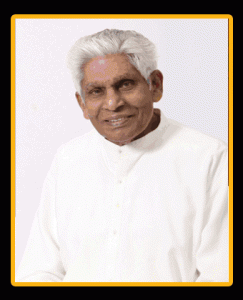 The sudden demise of late Mr. Kanagasabapathy, fondly called "Kanex" and also affectionately known as Athipar (Principal) is an irreparable loss for the Toronto's Tamil Community in particular and for the thousands of his colleagues and former students across the globe in general.
A teacher par excellence and a strict disciplinarian, Kanex was born in the village of Sandilipay in North Sri Lanka on Sep 04, 1935. Together with his two brothers and two sisters he grew up under the careful guidance of his parents Ponniah and Aachimuthu. He started his early education at Skandavarothaya College where he was attracted by the simplicity, discipline and administrative ability of its Principal orator Subramaniam. In fact he adopted and applied these sterling qualities that helped him to become a successful teacher as well as a respected Principal in the later years.
After his Grade 12 Exam, he proceeded to Tami Nadu where he followed his higher education at Madras Christian College, graduating with Zoology Honours, obtaining a Gold medal for his brilliant performance.
Mr. Kanex once said that during his university days in Chennai, he was attracted by the fiery speeches of leaders of DMK as well as Communist party and those speeches helped to improve his knowledge about regional politics.
After graduation he joined Mahajana College, Tellippalai and after a few years he was transferred to Putur Somaskanda College. In both educational institution he made his mark and was instrumental for many of his students obtain excellent grades in Zoology, opening the way for them to enter the Faculty of Medicine.
When he was serving at Mahajana College , there was system in place that any student seeking admission to GCE Advanced Level had to obtain a letter of authorization from the Department of Education. One day a student who had no contacts at the Department approached the principal and explained to him that he does not know anyone in the department and asked him for his help. When Kanex told him that he cannot do anything against the existing rules, the student had told him "Sir, if you are unable to help me, I have no alternative but to go to Kilinochchi to continue our family trade. Hesitating for a moment Kanex told the student "I am admitting you right now even If I lose my job".
During his days at Puttur Somaskanda College once he had to face the opposition of local villagers since he had provided admission to a student from an oppressed community. However Kanex not only stood firm in his decision but also arranged two teachers from the community to be appointed to the same school. The opposition from the villagers soon fizzled out and everything soon returned to normalcy.
These are just two incidents to indicate that he was a man of action.
After obtaining Diploma in Education at the University of Peradeniya he served in the North for a very brief period and then was selected by the Civil Service Commission of Nigeria in 1981 to serve in Sokoto State.Though selected to serve as a Science teacher, the authorities there soon spotted his talents and he was promoted to serve in the Ministry of Agriculture. During his five years of service there he developed a curriculum for teaching of Agriculture and in addition he developed a set of question and answers to be used in the school for the next ten years.
He was a nature lover who spent most of his free time planting various floral trees around his garden in the small town in Northern Nigeria and since I too was serving in the same state I had often seen local neighbours watching the multicoloured trees with awe and amazement.
He arrived in Canada in 1987 and after residing in Montreal for a brief period he moved to Toronto where he began to live in Lansdowne Co-op housing scheme where he helped to establish a large library.
Meanwhile, unfortunately when he was about to settle down and mould the future of his children he had to face a tragedy when his beloved wife Amirthagowri passed away after a brief period of illness. It was a heavy blow to him but yet he was determined to face any obstacles. He was soon able to find employment as a Multicultural Educational Advisor in Toronto Board of Education. In addition to doing various part time jobs, he spent his spare time getting involved in horticulture and floriculture.
Just as he was trying to stabilize himself, he had to face the death of his son Manimaran a few years later. Facing the double tragedy with remarkable strength he began to get himself involved in social activities for many years, while often feeling the effects of age related illness.
He spent many hours honing his writing skills and soon started writing articles on a variety of subjects especially cricket. He soon spread his wings wider and began writing a number of books .Out of his publications, his book about the services of 23 principals who had served in various educational institutions in SriLanka was greatly appreciated by a number of Tamil readers around the globe.
A prolific writer he had published two books and hundreds of articles in every newspaper published in Toronto. Being an eloquent speaker he was present in almost every literary function. Though in recent years he had to face the effect of many serious health problems, he continued his literary and social activities until he was finally called to rest on Christmas Eve.
He is survived by his son Manivannan and two daughters Manimozhli and Manivili.
May His soul rest in peace.
Lives of great men all remind us
We can make our lives sublime,
And, departing, leave behind us
Footprints on the sands of time
Let us then, be up and doing
With a heart for any fate;
Still achieving, still pursuing,
Learn to labour and to wait – (H. W. Longfellow-1809-1882)
A Tribute by:
Raymond Rajabalan