Monsoon Journal celebrates 12th Anniversary 
By: Krishni Narine
Toronto, ON. Canada – On Sunday May 6th, 2018 at the Scarborough Civic Centre the 12th Anniversary for Monsoon Journal was celebrated, along with recognizing South Asian Heritage Month. The Monsoon Journal team, advertisers, community members and supporters all joined together to celebrate the milestones the publication has reached and recognized individuals of the Monsoon Journal editorial team.
The afternoon began with an opportunity for guests to network before the formal proceedings. Hosted by Rajini Nathan who also contributed regularly to the publication; she introduced key sponsors to present awards to the editorial team. A special award was given to Mr. Siva Sivapragasam, executive editor of the Monsoon Journal for his tireless effort and maintaining the high standard of content through his rich background in journalism.
Monsoon Journal recognizes individuals carrying out charitable and social work and presented the humanitarian award to Ken Vivekananthavel for all of his philanthropic contributions to building a better community in Sri Lanka.
The guest of honour and keynote speaker was Ms. Thulasi Muttulingam, a journalist based in Jaffna, Sri Lanka, where she concentrates on writing on social issues in post-war Sri Lanka. The guests listened in silence as she shared the struggles that journalists faced in Sri Lanka and how difficult it was to represent the true stories of the people living there. Realizing how important her role was, put our lives in the Western part of the world into perspective, where news coverage is minutes after an incident happens and journalists are not afraid to report on controversial topics. Attendees were left to reflect on Thulasi's speech and empowered to share her story.
Hon. Gary Anandasangaree MP, parliamentarian for Scarborough-Rouge Park represented the Government of Canada at the event. The Member of Parliament delivered congratulatory messages to Monsoon Journal, Ms. Thulasi Muttulingam, Mr. Siva Sivapragasam, and all other award recipients and also extended greetings to the attendees and all readers of Monsoon Journal, on behalf of the Prime Minister of Canada.
Premier of Ontario, Hon Kathleen Wynne had also extended her wishes to the event, Monsoon Journal and readers via a statement.
The loyal readership continues to grow and is an integral part of the publication. The Monsoon Journal team would like to congratulate all of the award winners and the entire editorial team for 12 continuous years. The MJ team would also like to thank Thulasi Muttulingam for journeying all the way from Sri Lanka and all those in attendance at the 12th Anniversary.
Please see pages 6 to 10 at June 2018 issue of Monsoon Journal for more coverage on Montage Awards 2018.
Mohan Sundaramohan from RBC presenting "Exemplary contributions in Journalism&Management of Media Organizations" Award to Siva Sivapragasam, Executive Editor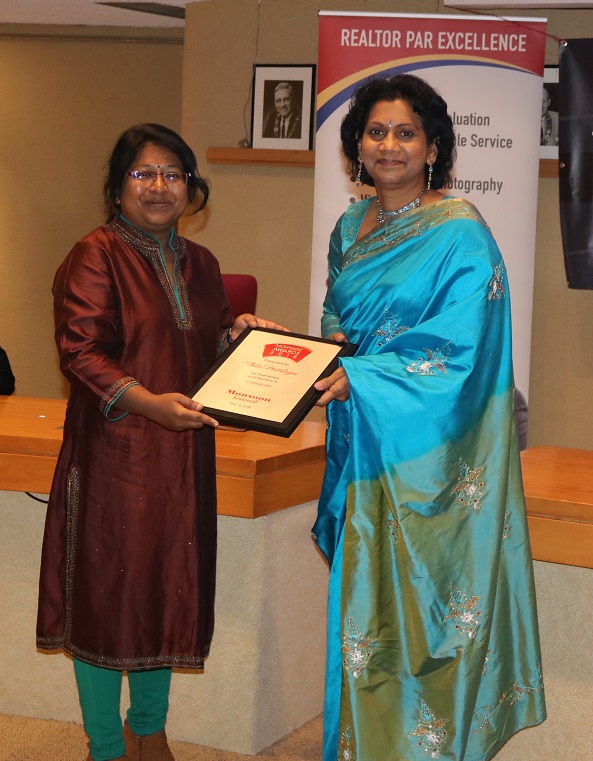 Lawyer DilaniGunarajah, President-CTCC presenting "Exemplary contributions in Journalism" Award to ThulasiMuttulingam, Journalist from Jaffna, Sri Lanka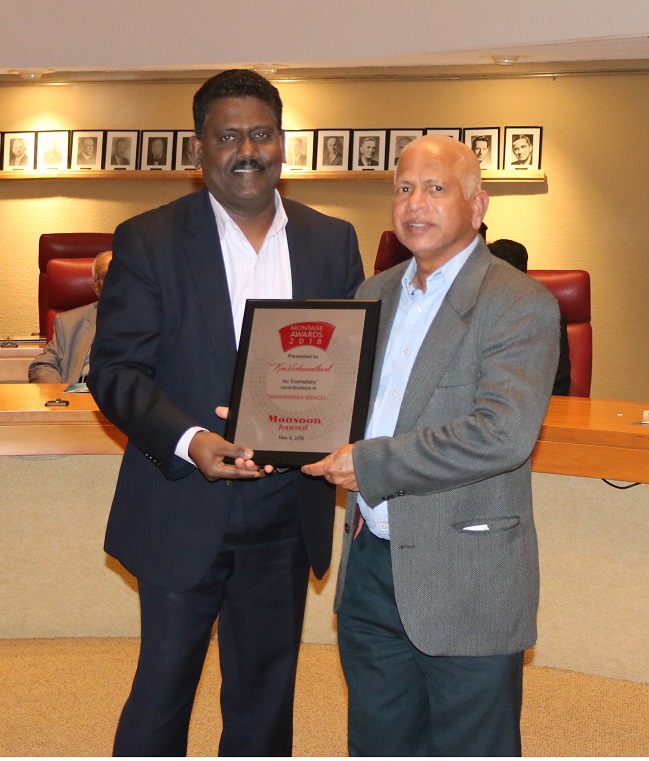 Kula Sellathurai from Inter-Citi presenting "Exemplary contributions in
Humanitarian Services" Award to Ken Vivekananthavel, CPA, CMA