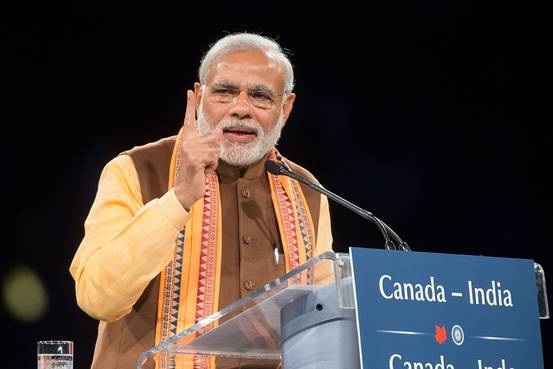 India's perception for the future will be "skill India" not "scam India", says Prime Minister Modi
"There's a new joy in India" Modi says while crowds chant cheers
 By Siva Sivapragasam
Thousands gathered outside the Ricoh Coliseum in downtown Toronto to see and hear Indian Prime Minister Narendra Modi who received a rock-star like treatment as he stepped onto a slowly rotating stage.
Dressed in an orange shawl on a brown sleeveless jacket and a light saffron coloured  kurta,Modi enjoys wide popularity among the country's 1.2 million-strong Indo-Canadian population here in Canada. Modi was winding-up his three nation European and North-American tour with Canada as his last stop.
The crowds  chanted "Modi, Modi, Modi" as he took the stage to speak on Wednesday night in Toronto. Modi was welcomed to the Ricoh Coliseum stage by Canadian Prime Minister Stephen Harper and his wife, Laureen.
Modi and the crowd sang together India's national anthem "Vanthe Matharam" crafted by Poet Laureate Rabindranath Tagore, and many kept singing during the Canadian anthem as well. Before beginning his speech, Modi received a lengthy standing ovation.
Throughout his speech, Modi spoke about his plans to improve India. "The
path to development is the only solution that is going to take India forward,"
he said.
He also talked about improving India's perception that he  wants it to go from "scam India" to "skill India."
Modi spoke in a relaxed tone from a stage that slowly rotated so that the entire crowd could get a glimpse of his face as he spoke. He praised Canada for the love extended to him. He also praised the crowd, which he described as "brothers and sisters" for their contributions to Canadian society.

As he introduced Modi, Harper called the visit "historic" and described the Indian Prime Minister as "a long friend to Canada, and we to him."
Harper was also greeted with a huge ovation from the Indo-Canadian audience when he announced Modi's agreement to issue visas to Canadian travellers upon their arrival in India.
"They told me that would be popular," Harper said, laughing.
The thousands who wanted to see and hear Modi speak waited around two hours to get inside. Performers sang and danced, while the crowd often chanted Modi's name.
"There's a new joy in India" Modi said, while the crowds chanted more cheers.
Modi said his development goals include increasing the number of skilled workers in the country and growing the number of entrepreneurs. Indians, he said, should be creating jobs instead of seeking them.
Praising the role of the Indian diaspora in Canada, Modi recognized the role that the Indian diaspora has played abroad.
"Indians who have settled in Canada … have actually made a significant contribution to India," he said.
Modi has earned a name among Indians as a self-made man who rose from the position of a tea-seller in railway platforms to the highest elevated position of a Prime Minister of the largest democracy in the world.