By Siva Sivapragasam
Sri Lanka's new regime has decided to replace  the current military Governor Major General Major General Chandrasiri with a civilian Governor H.M.G.S. Palihakkara.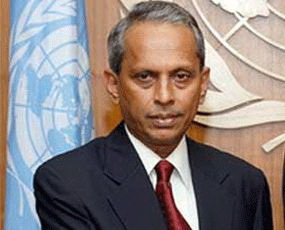 Mr. Palihakkara was a former Foreign Service secretary and was one of the eight panellists in the Lessons Learnt and Reconciliation Commission appointed by the previous Government. He was also onetime Permanent Representative for Sri Lanka in the United Nations.
He joined the Sri Lanka Foreign Sevice in 1979, undergoing the Foreign Service Training Programme in Australia; later studying International Human Rights and Humanitarian Law at Lund University and receiving the UN Disarmament Fellowship.
Palihakkara had represented Sri Lanka at the UN Commission on Human Rights, UN Conference on Trade and Development and the Conference on Disarmament. He has also served on the Panel of Ambassadors advising UN Human Rights High Commissioner.