Lizt Alfonso Dance Cuba's New Musical "Amigas"
Canadian Tour set to turn up the heat in Markham
This fast-paced theatrical musical will have you dancing in the aisles!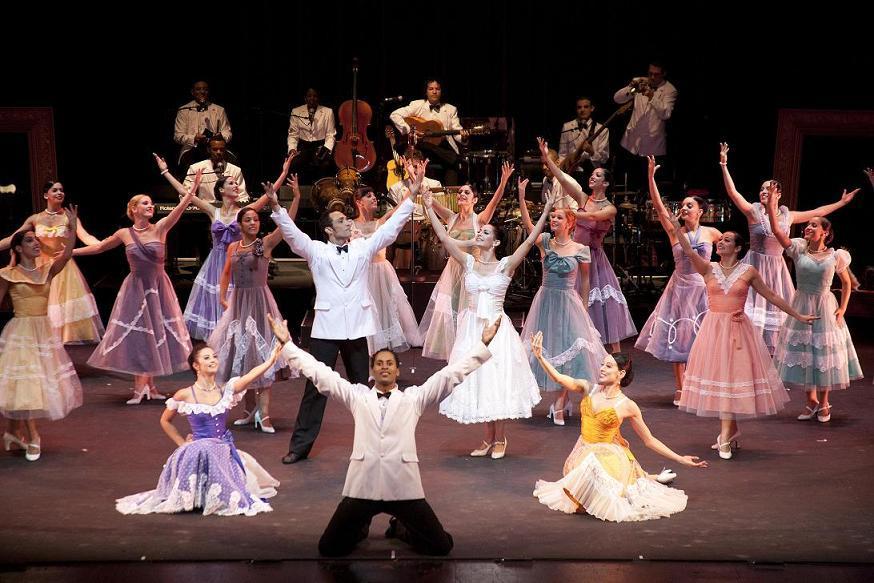 The latest production by Lizt Alfonso Dance Cuba, "Amigas", heads to Ontario for a two-night engagement on February 26 and 27at the Flato Markham Theatre. No need to head to the warmth of Cuba this winter, this dance troupe, visiting Canada for the sixth time, will turn up the heat with this fast- paced dance, music and Broadway style show.
Since its founding 15 years ago under the inspired creative direction of dancer-choreographer Lizt Alfonso, Havana-based Dance Cuba has been Cuba's most popular dance company and is beloved around the world. What defines Cuban dance, whether on the street or on the world's more renowned stages, is the feeling that dancing is, above all, a social pastime where all genres of dance are expressed and performed.
This all-female company of 17 beautiful and technically superb dancers perform "with amazing unanimity" (New York Times) and with "sheer technical finesse" (Chicago Sun-Times). Accompanied by an on-stage ensemble of 6 remarkable male musicians, Dance Cuba fuses the rapidly clacking heels of the flamenco with the flowing grace of classical ballet, the hot passion of Afro-Cuban dance, and a touch of jazz. The Cha-Cha, Mambo, Rumba, Conga and even the sensual Bolero will collide to bring the heat of Cuba north to melt even the harshest Canadian February evening.
"Amigas" promises a chance to experience Cuba through music and dance from the 1950s to today, billed as "all the rhythms of that vibrate the heart and fill the soul."  Altogether it is exciting, riveting, visually captivating, and gives you the feeling you're at a nightclub in Havana during the 1950's.
This new musical tells the story of three friends who were a once well-known singing trio, but have lost touch over the years.  The friendship of Mercedes, Caridad and Regla was destroyed by jealousy when two of them fell in love with the same man. Now, for a live recording of a new TV show, the network plans the unexpected reunion of the three singers. The result is a journey through Cuba's history guided by music and propelled by dance.
"Amigas is a huge revolution in our work," says choreographer Lizt Alfonso. "It runs the gamut of almost the entire history of Cuban music. We play jazz, we play rock and roll, (and) we play swing."
On this occasion the leading roles will be played by dancers Yadira Yasell, Sandra Reyes, Yaraidy Fernández, María Carla Cardona, Oddebí García and Jerlandys Milián, singers Niurka Reyes, Yaíma Sáez and Sory; José Luis Pérez as announcer and singer and Osvaldo Doimeadiós as coordinator of the TV show where the story of AMIGAS takes place. They will be joined by the ensemble's music band and corps de ballet under the general direction of Maestra Lizt Alfonso.
During the journey of nearly two hours through songs, bolero, cha-cha-cha, mambo, rumba, conga, salsa, rock and roll, jazz and many other rhythms that companied the story of their lives, Mercedes, Caridad and Regla discover that no matter the past, they will always be AMIGAS.
"A radiant expression on the true Cuban spirit in soulful song and exuberant dance"
–       Michael Crabb, The Toronto Star

Lizt Alfonso Dance Cuba "AMIGAS":
Thursday, February 26, 2015, 8 p.m. &
Friday, February 27, 2015, 8 p.m.
Tickets: $64 -$59, Diamond 4-Pak $150. Students: $25, Seniors: $39.
Box Office: 905-305-SHOW (7469),
Toll-free: 1-866-768-8801 (not available in 416/647 area codes)
Online: www.markhamtheatre.ca 
For media images and clips or to arrange an interview, please contact:
Andrea Smitko, Events Promotions Assistant, Flato Markham Theatre
(905) 415-7537 ext. 5700 / asmitko@markham.ca
For more information about the Flato Markham Theatre, please contact:
Wendy Woof-Severn, Marketing & Development Manager
(905) 415-7537 ext. 5580 / wwoof-severn@markham.ca
The Season Media Sponsor is the Markham Economist & Sun. Media Partners also include:
Asian Television Network (ATN), Rogers TV, Today Commercial News, York Media Group, JAZZ.FM91, Classical 96.3FM, AM740, The Jewel 88.5FM, Durham Radio, Wave.FM, Update Weekly, and Fairchild Radio AM 1430.
About Flato Markham Theatre:
Flato Markham Theatre is a jewel in the crown of the Markham community located only 30 minutes from the downtown core. The intimate, 527-seat, state-of-the-art performance facility provides patrons with unforgettable access to a host of internationally acclaimed artists and productions through its annual Diamond Series Season presented by Weins Canada. Illuminating the central theme that live arts in Markham matters, the season features the best of classical, jazz, world music, dance, comedy, pop artists, and family entertainment. Flexible ticket package options and complimentary parking are available.
About Markham:
Markham, a municipality with more than 330,000 residents centrally located in the Greater Toronto area, is home to 400 corporate head offices and 900 high tech and life science companies. Founded in the 1790s, today Markham is Canada's most diverse community, enjoys a rich heritage, outstanding community planning and services, and a vibrant local economy. Markham has received the Excellence Canada PEP III Integrated and Accessibility Awards, and multiple heritage and environmental awards. Markham is proud to be an official Host City for the 2015 Pan American and Parapan American Games.