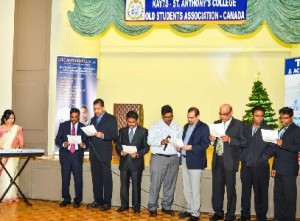 Past students of Kayts St Antony's college had a gala get together in Scarborough on Saturday, Dec 6th at JC's Banquet hall and Grill House and it was a feast of nostalgia where former students and teachers mingled freely sharing pleasant memories of their school days.
Ably organized by MacMillan Mariathas, the president of Alumni association of Canada (SACCAN) and an energetic youthful committee, the function was a great success and it included many cultural events that were a feast to the eyes.
All past teachers residing in Canada were honoured at the occasion and special commemorative plaques were handed over to each of them. Mr. Rajabalan, a former student who had taught at his Alma Mater speaking at the occasion mentioned that during his period of serving his old school he was very happy to have been involved in modernizing the science laboratory. He also mentioned that it was a great pleasure to honour the three senior teachers Messrs. Joseph, Ferdinand and Ambalavanathan present at the occasion and explained in detail how they toiled hard to produce excellent results at the public examinations.
Prof. Rev. Fr. Joseph Chandrakanthan of University of Toronto speaking at the occasion said that he was very pleased to note the progress being made by the college and mentioned that his father had taught at the college for a brief period .He pointed out that Kayts St. Anthony's College continues to function as a great catholic educational institution in North Sri Lanka.
At the end of a sumptuous buffet dinner, the President of the Association thanked the quests and said that the present committee will continue to work hard to help the Alma Mater and pointed out that the proceeds from this event will be used to help the underprivileged students.
More pictures can be seen on Page 43, Jan 2015 Print & Web issue of Monsoon Journal