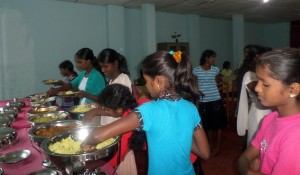 Karuna-Nilayam was a project started by the Jaffna Church Missionary Society in 1965 and it will celebrate its Diamond Jubilee in 2015. It was established by Muriel Violet Hutchins, an Anglican Missionary in the 29th of October 1965 in the interests of orphaned girls and women. It has served as a refugee for disaster stricken women over the years. Muriel came as a missionary and taught as a teacher at Chundikuli Girls' college and then moved to Kopay Christian College to serve as its vice-principal. She retired in 1955 and took on the Karuna Nilayam Project of the JCMA. She originally started with a small cottage and then with funds collected from well-wishers in home and abroad, built a hostel for destitute women. A church was built beside it on a Dravidian style with a 'Kopuram' over the sanctuary. When Ms. Hutckins reached the age of 80 in 1979, the JCMA took over the administration of the center. Popularly known as 'vellaikkara amma'/Hutchkins ammashe was proved herself to be a greatest ambassador for Christ among the poor and the destitute women in Killinochchi area. She wore the simple dress the orphans and at Karuna-Nilayam wore and she ate the food they ate. She died at the age of 97 and her mortal remains became one with Vanni where she lived.
Karuna-Nilayam still thrives as a living testimony for the services rendered by this victorious champion for Christ. The war broke out after her demise and 'karuna-nilayam' had to be shifted to Jeyanthipuram. Now it is proudly re-built and continues the task initiated by Hutchkins Ammah.
Karuna-Nilayam still continues with the following services to the orphaned and destitute women:
(1) Looks after women who are mentally affected. Nutritional food and medical facilities are provided for these hapless women. A medical officer from the Killinochchi hospital visits them monthly and examines their conditions in order to grant them continual treatment through their medical clinic.
(2) Providing Support for poverty stricken girl students: 36 students are provided board and lodging at the KN centre and 16 other students are maintained at Chundikuli Girls College. Between 2006 and 2013, 25 students among them were able to gain admission to the university.
(3) Pre-School Education:
About 67 children including boys and girls are studying at Muriel Pre-school education centre at Karuna Nilayam. Four teachers and one cook are serving at this centre.
(4) Computer Training Unit.
The computer training program has been initiated to help poor children who have to leave school early to seek employment. An experienced and well trained teacher has been employed to teach these children. Not only school leavers but also children staying in our home are provided with the training.
(5) Rearing of Cows:
Five cows are reared at our center. Milk is provided for the children at our center, for mentally handicapped women and pre-school children. We have employed a supervisor to look after the cows and grow grass for the maintenance of the cows.
(6) Cultivation of Grapes:
A grape farm is established at Karuna-Nilayam. Grape-juice is prepared from the matured grapes produced at this farm. The juice is bottled and sold at reasonable price to various churches.
(7) Medical Center:
The Medical Center at Karuna Nilayam was established in 2011 with the help of Hope Outreach, U.K. The medical clinic is managed with the services of a nurse. A doctor visits the clinic once a month to examine the health conditions of mentally stressed women and children at the center.
(8) Mental Health Services:
Mental health services are provided for mentally handicapped women and pre-school children.
Fifteen persons are employed to provide services at Karuna-Nilayam.
Friends of the Karuna Nilayam have grouped themselves to form a charitable organization in Toronto. The Diamond Jubilee of the K.N will be celebrated in October 2015. All well wishers of the Karuna Nilayam, past pupils of Kopay Christian College and friends from Kilinochchi are requested to contact Mrs. Jeeva Ratnarajah (416-722-5338/jratnarajah@yahoo.ca) or Mr. M.C. Francis (marcilfrancis@gmail.com) or Leela Emerson-416-494-7562 for further details. Donations may be sent to: T.D Bank Branch: 3841, A/C No.5230218.
M.C. Francis
ps: Photo of Muriel Hutchins(founder) appears at the start.