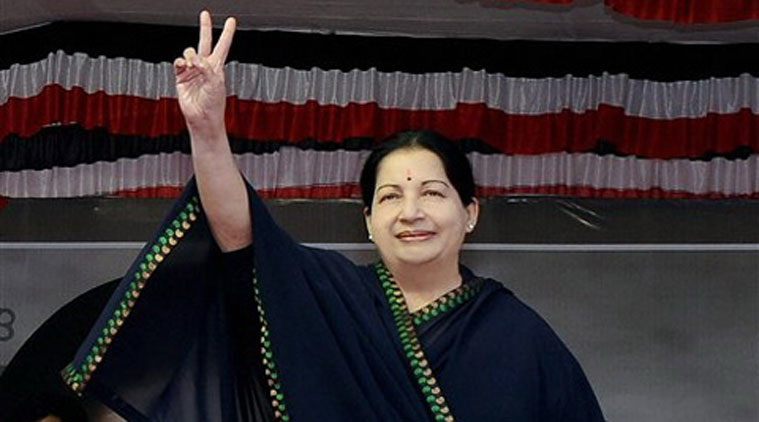 "Court verdict has proved that I am completely innocent", says Jayalalitha
                By Siva Sivapragasam
Movie queen turned Chief Minister Jayalalitha Jayaram who was convicted in a disproportionate assets case and sentenced to four years jail by a lower court has been cleared of all charges by the Karnataka High Court and can become Chief Minister of Tamil Nadu again.
In a message to the Opposition parties in Tamil Nadu, Jayalalitha asked her political opponents to end today any thoughts of decimating her political life, or the "great party" founded by late MGR.
Commenting on the High Court verdict she stated that "The verdict proves I'm completely innocent. I have always desired the well-being of the Tamils and vowed to work for their welfare always."
Justice C.R Kumaraswamy, who read out the judgment stated that the appeals of all the four accused (Jayalalitha, Sasikala, Suthakaran & Ilavarasi) have been allowed and they were being acquitted of all charges.
The Karnataka High Court verdict stated that AIADMK general secretary Jayalalitha was entitled for acquittal as the disproportionate assets (DA) held by her was less than 10 per cent of her income as per the guidelines of the Apex Court for acquitting public servants based on the quantum of DA possessed by them in the corruption cases.
What are the choices before Jayalalitha? She can take oath immediately, and ask an MLA to vacate a seat for her and contest within six months.But she might think it prudent to wait until she is elected as an MLA, as the Election Commission is under no compulsion to hold a by-election immediately. Alternatively, she can opt for a dissolution of the House and go for fresh general election to the Assembly.
"The AIADMK might have a cakewalk in the 2016 elections", says C Lakshmanan, a professor at the Madras Institute of Development Studies.