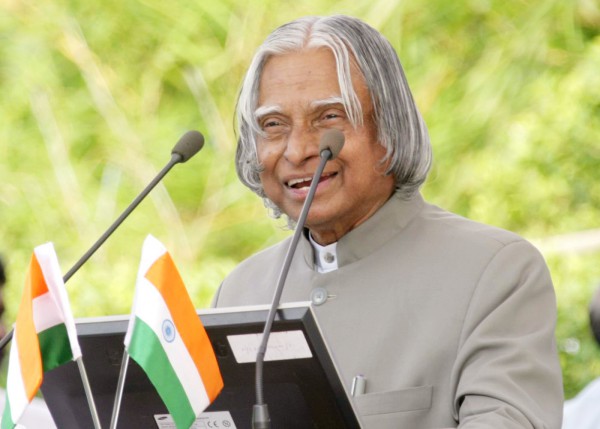 By Siva Sivapragasam
 "India mourns the loss of a great scientist, a wonderful President & above all an inspiring individual." – Indian Prime Minister Narendra Modi
He was born in a poor Tamil Muslim family of a boatman in the port city of Rameswaram in South India. But he fought all odds to reach the highest position as the President of the country.
Eighty three year old Avul Pakir Jainulabdeen Abdul Kalam, India's foremost scientist and former President, passed away due to a sudden and massive cardiac arrest while delivering a lecture at the Indian Institute of Management in Shillong.
Dr. Kalam served as president for five years from 2002, enjoying the support of both the ruling BJP and the opposition Congress. Kalam was closely involved in the country's civilian space programme and military missile development efforts, earning him the title 'India's Missile Man'.
He worked as a scientist and science administrator, mainly at the Defence Research and Development Organisation (DRDO) and Indian Space Research Organisation (ISRO) before he became president. He also played a pivotal technical and political role in India's Pokhran-II nuclear tests in 1998, shortly after the Atal Bihari Vajpayee government came to power.
After his term, he returned to a life of education, writing, and public service. He received several prestigious awards, including the Bharat Ratna, India's highest civilian honor. Abdul Kalam was born on 15 October 1931 in a poor Tamil Muslim family in Rameswaram. But he overcame all odds to study physics and aerospace engineering.
Dr. Kalam had close association with Tiruchi. It was here, at the famous St. Joseph's College that he spent four years of his formative education from 1950 to complete his intermediate and graduation in Physics. A.P.J. Abdul Kalam always used to say he would like to be remembered as a teacher. When he became the President in 2002, he made no compromise on his penchant for teaching. He grabbed every opportunity to teach students, especially children, wherever he went. Administering a pledge on national development to the youth was his passion. He once remarked "Teaching is a very noble profession that shapes the character, caliber and future of an individual".
In an exclusive interview to The Hindu on the occasion of 'Teachers Day' on September 5, 2013, the former President said: "If the people remember me as a good teacher, that will be the biggest honour for me." By a strange co-incidence, minutes before his end came on Monday, Mr. Kalam was teaching students at the Indian Institute of Management, Shillong.
Popular with children and young people, after his retirement Dr. Kalam engaged the youth by reaching out to them through lectures and public interactions. He also led a frugal life, which was reflected during his stay in the stately Rashtrapati Bhavan.
A pall of gloom descended on Rameshwaram and the "House of Kalam" as television channels broke the news of the death of the town's most famous son. Dr. Kalam had spoken to his family from Delhi on Sunday night and enquired about the health of his 99-year-old brother A.P.J.M. Maraikayar. His grandnephew Sheik Saleem told the "Hindu" newspaper "Grandpa called and enquired about the medicine and food being given to 'Periya thatha'' 
Dr. Kalam reportedly collapsed on stage at the IIM and was rushed to the Bethany hospital. Doctors said he suffered from a massive cardiac arrest. Patricia Mukhim, editor of the Shillong Times, wrote in a Facebook post that Dr. Kalam was reportedly brought dead to Bethany hospital in the Meghalaya capital. Every year, the former President came to Shillong to deliver lectures. This time his topic was "Making the World More Livable", she wrote.
"India mourns the loss of a great scientist, a wonderful President & above all an inspiring individual." Indian Prime Minister Narendra Modi tweeted.