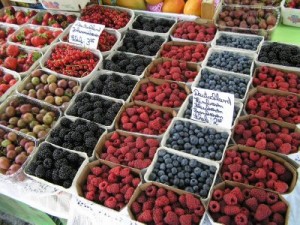 By: Chef Nate





No matter how many times we've heard that breakfast is the most important meal of the day, many of us still don't give breakfast much thought. Whether we choose fast over healthy while on the run or skip breakfast all together, many of our breakfasts are not living up to their potential.
Is breakfast really that important?
Recent research says yes. People who eat breakfast are less likely to be overweight than those who skip breakfast even if they eat more overall. Eating breakfast may help us eat better later in the day by keeping us from impulsively snacking and overeating at lunch and dinner. As an added bonus, eating breakfast might even be able to improve your mood!
What's for Breakfast?
While simply eating breakfast is a good thing, what we eat is important, too. Try these suggestions for a healthy breakfast:
– Whole grain cereal with low fat milk and fresh fruit.
– Low fat yogurt with granola and dried fruit.
– Whole wheat pancakes or muffin with fresh berries and a glass of skim milk.
– Peanut butter and banana on a whole grain bagel.
– Vegetable egg white frittata with whole wheat toast.
Not Hungry in the Morning?
Starting off small with a cup of yogurt or a piece of whole grain toast can help you get in the breakfast habit. Venture off the breakfast menu. If you like salads, try them at breakfast. It might seem funny at first, but the key is to get the energy you need to start your day off right. Which food you choose for that energy is up to you.
Make it a Family Affair
Children with parents who eat breakfast are more likely to eat breakfast themselves. Make breakfast a daily habit for your family. Everyone will reap the benefits and you may help to instill a lifelong healthy habit in your children. Breakfast is the first meal of the day. The word is a compound of "break" and "fast," referring to the conclusion of fasting since the Previous day's last meal. It is widely referred to as the most important meal of the day. Breakfast usually consists of foods that are high in energy
The American Heart Association states that eating breakfast may reduce the risk of obesity, heart disease and diabetes. Eating a bowl of oatmeal has been a part of our countries healthy breakfast for centuries. This is due to the fact that oats contain soluble fiber, which has been shown to help lower LDL (bad) cholesterol. Cholesterol is the fatty substance produced by the liver and other cells in the body. While you need some cholesterol to make hormones and breakdown the fats you eat, levels that are too high can cause problems. Part of the American Heart Association's new dietary guidelines recommends at least 6 daily servings of grain products, including whole grains.
There are a variety of whole grains that when cooked and flavored properly are a great alternative to oatmeal. These grain cereals bring a new flair to the morning hot cereal concept. With keeping the healthy concept that oatmeal offers, these grains are a great source of vitamins, minerals and fiber. Nearly any grain can be cooked into hot cereal. Look for grits, meal, bran, germ, grouts, flakes, and other forms.
Cooking procedures and times vary slightly according to the type of grain, and whether it is a regular or instant variety. Prepare hot cereal with milk or water, and follow the directions on the package. Add dried fruit, chopped nuts or crushed flaxseeds to hot cereal, or top cooked cereal with fresh fruit. Combine several varieties of grain for maximum flavor and nutrition. Although best known as a breakfast food, hot cereal can be enjoyed in the afternoon or evening.
Honey Orange Quinoa
This super healthy grain is slightly sweetened with a touch of Cinnamon, Honey and Orange.
Mixed Berry Muesli
This Muesli mix of grains has been simmered with Cinnamon, Sugar and Fresh Mixed Berries to give every morning a taste of freshness.
Assorted Toppings to include:
Roasted Cinnamon Apples – Dried Apricots
Sliced Strawberries – Golden Raisins
Crushed Pineapples –
Granola Brown Sugar – Cinnamon
Whole grain Pancakes
eggs
content. milk
Buttermilk
Flour, whole wheat
Sugar
baking, powder
salt
Butter
vegetable oil
Walnuts (optional), chopped
1.Grind the oats in a blender or food processor until fine.
In a large bowl, combine ground oats, whole wheat flour, baking soda, baking powder, and salt.
In another bowl, combine buttermilk, milk, oil, egg, and sugar with an electric mixer until smooth.
Mix wet ingredients into dry with a few swift strokes.
Stir in nuts, if desired.
Lightly oil a skillet or griddle, and preheat it to medium heat.
Ladle 1/3 cup of the batter onto the hot skillet; cook the pancakes for 2 to 4 minutes per side, or until brown
Artichoke & Red Pepper Frittata
olive oil (2tsp)
parmesan cheese, grated
oregano, dried (1tsp)
red bell pepper, diced
garlic cloves, minced
red pepper, crushed ¼ tsp
artichoke hearts
eggs
Salt & pepper mix
Heat 1 teaspoon oil in a 10-inch skillet over medium heat. Add bell pepper and cook
until tender, about 2 minutes.
Add garlic and crushed red pepper; cook, stirring, for 30 seconds. Transfer to a plate.
Wipe out the pan.
Whisk eggs in a medium bowl. Stir in artichoke hearts, Parmesan, oregano, salt, pepper
And the bell pepper mixture.
Set a rack about 4 inches from the heat source; preheat the broiler.
Brush the pan with the remaining 1 teaspoon oil; heat over medium heat. Pour in the
egg mixture and tilt to distribute evenly. Reduce the heat to medium-low and cook until
the bottom is light golden, lifting the edges to allow uncooked egg to flow underneath, 3
to 4 minutes.
Place the pan under the broiler and cook until the top is set, 1 1/2 to 2 1/2 minute