by Harrish Thirukumaran
After the Canadian electoral redistribution in February 2012, the former electoral riding of Scarborough-Rouge River split into two new ridings. These ridings, from the general election set for October 19, 2015 to the next 10-year readjustment, are Scarborough North and Scarborough-Rouge Park.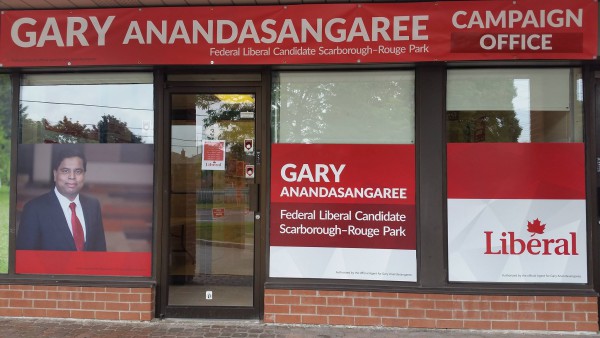 The Liberal Party of Canada candidate in the first electoral contest of Scarborough-Rouge Park is dedicated lawyer and community activist, Gary Anandasangaree. Since winning the Liberal nomination for the riding on August 20, 2014, he has gradually prepared himself to become the next Member for Parliament (MP) for Scarborough-Rouge Park, representing his constituents in Ottawa. For nearly 74 days of the 78-day election campaign, Mr. Anandasangaree has been effectively gaining voters' trust based on his candidacy, and how the Liberal Party platform is tailored to the particular issues within Scarborough Rouge Park.
As I volunteered my time for Gary's Liberal campaign during my university break week, I have witnessed his personable and honest character that qualifies him as the most ideal choice for the riding's MP. During a special canvass on the last advanced polling day, a majority of residents have decided to vote Liberal, while others were undecided, but have displayed leanings toward Gary and his party.
Amusingly, one individual happily showed their support for Mr. Anandasangaree because of his friendly demeanor and work ethic in the community, kissing the literature as they received it.
"Liberal all the way," was another great remark heard at the door in the riding, along with voters declaring they already voted for Gary, thereby utilizing their democratic right to excellent representation in Ottawa. With voter outreach and information, him and his optimistic Liberal campaign volunteers have exerted a heavier, and more genuine impact in the advanced polling days of the riding, unlike Conservative candidate, Leslyn Lewis, or New Democrat candidate, Kantharatnam Shanthikumar.

These respective candidates only attended some of the four local debates, in contrast with Gary Anandasangaree and Green Party candidate Calvin Winter. This further demonstrates that both Mr. Shanthikumar and Ms. Lewis are shying away from opportunities in this campaign to directly address residents' problems they supposedly intend to fix. Knowing Gary has attended all the debates showcases his unfettering commitment to understanding the concerns of his fellow residents, in order to get tangible results in his defined capacity as a Member of Parliament in Ottawa. As residents can attest to, this includes well-financed and quality transit in Scarborough-Rouge Park. In which, it can preferably support the creation of gainful youth employment opportunities. Through these debates, Gary knows an ambitious Liberal plan to enhance infrastructure renewal is the right answer for these particular grievances.
From the view of myself and others, Gary is seen as an approachable, sincere, and proven community member once interacting with him at his office at 3600 Ellesmere Road. There is certainly a healthy multicultural atmosphere among visiting constituents, individuals and volunteers in the riding, and his campaign office. Interestingly, akin to a political endorsement, a community-minded resident calling to request a Liberal large lawn in Scarborough Rouge Park has acknowledged the genuineness of Mr. Anandasangaree's candidacy. This resident went onto to explain that a lawn sign symbolizing their backing of a candidate like Gary would be a convincing factor for others in their neighbourhood desiring the best for Scarborough-Rouge Park.
On October 19, 2015, vote Gary Anandasangaree to give an effective democratic voice for the people of Scarborough Rouge Park in Ottawa.