"People' power sweeps Rajapakse out of
Presidency"
"Power corrupts and absolute power corrupts absolutely"
– Lord Acton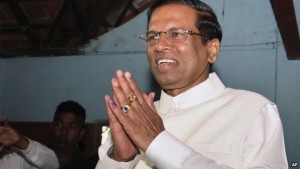 By Siva Sivapragasam
People's power swept through Sri Lanka on Thursday like a Tsunami wave, to catapult common opposition candidate Maitripala Sirisena, a farmer's son, (like the tea-seller's son Narendra Modi in India) to become the new President of Sri Lanka.
Rajapakse's electoral defeat has proved to politicians that you cannot fool all the people all the time.When he called a presidential election for January 8th, two years before he had to, Percy Mahinda Rajapaksa must have been extra confident of victory. But he did not realize that provincial elections had shown that his once unassailable popularity was waning. The pomp of power and the boast of heraldry has now thrown Mahinda Rajapakse out of the Presidency.
Sirisena has become the President at a time when the country desperately needed a regime change. Family rule, alleged corruption, authoritarianism, breakdown of the rule of law, callous disregard for the independence of the judiciary and a rising cost of living all jointly contributed to two-term President Rajapakse's downfall. "One family has captured the country's economy, wealth, administration, and the management of the political party," the new President Sirisena told reporters after crossing over. Sirisena became a symbol of simmering discontent
against Rajapakse's alleged corrupt government.
In his tenure as President, Rajapaksa has tampered with the constitution of the country to suit his own political interests and hunger for power, despite already having served two terms. His decision to aggressively scrap a two-term limit for Presidents via the 18th Amendment has been criticized across the board, for ignoring democratic conventions. In an unprecedented show of strength, all opposing forces against Rajapakse joined hands together and voted with a vengeance to oust him from the presidency. Rajapakse had no idea that his one-time ally would crossover to defeat him.
Crispy rice hoppers and spicy salad, both traditional Sri Lankan dishes were on the menu the night before when the opposition candidate Maitripala Sirisena dined with Rajapakse before he decided to cross over and contest the President. It was like Judas betraying his men after the last supper.
Mistrust and deception were the reasons for the Tamil and Muslim votes to turn against Rajapakse. He kept on providing hope to the Tamil community and to India about devolution of power. But what he proposed was not put into practice. A confused and mixed foreign policy earned him the wrath of western nations. India has also been wary about Rajapakse's close ties with neighbouring China.
The opposition is of course a motley collection of conflicting forces with somewhat different views. To what extent they can work together and see eye to eye on issues is left to be seen. One thing is certain – The future of Sri Lanka on the road to progress lies in the thinking that all parties will have to rise above sectarian interests and work together providing a fair and equal level playing field for all communities. The alternative to the Rajapakse government should not result in a fragmented nation.
Rajapakse was caught under his feet due to defections and cross-overs from his party. He will obviously blame his defeat on his allies who left him and perhaps quote Julius Caesar in the Shakesperian tragedy – "Et tu Brute". ("You too Brutus").
The election was certainly a very close call and made it difficult to predict who would be the winner.
Americans have a favourite saying "It ain't all over until it's all over". This was true of the Presidential Election in Sri Lanka this time.