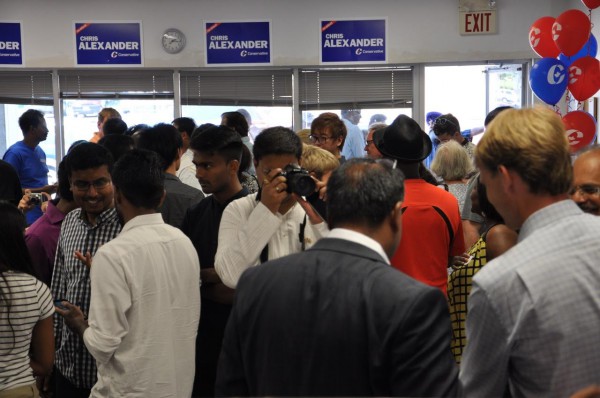 New Canadian Consulate to be opened in Jaffna
                           By Siva Sivapragasam
In a recent Media interview, Citizenship & Immigration Minister Chris Alexander has stated that Canada will provide all support for the proposed UN sponsored independent inquiry on Sri Lanka and take necessary action to provide justice to those affected by the Vanni war. 
Chris Alexander is the Conservative Party candidate for the Ajax constituency in the forthcoming Canadian Federal election to be held coming Monday.
The Minister also emphasized that only an investigation with international participation will provide genuine justice to those affected by the war in Sri Lanka. ''The truth must be ascertained through an independent investigation if a genuine solution is to be found for the problem and this horrible disaster is to be forgotten", Alexander further stated in the Media interview. The Canadian Government had all along taken necessary steps for the UN international body to bring forth a credible and forceful resolution. Prime Minister Stephen Harper boycotted the Commonwealth Conference in Sri Lanka in 2013 due to the violation of human rights and alleged abuses by the previous Sri Lankan regime.
Canada is well- known the world over as the welcome country for refugee immigrants. Alexander remarked that his Ministry had streamlined admittance procedures to fast track immigration applications during the recent past and a record number of immigrants had been admitted.
The Government of Canada is considering a proposal to open up a Canadian Consulate in Jaffna which would be of help for the immigration and visa processing process for applicants in the North and also to expand bi-lateral trade relationships between the two countries and will be  of assistance to the Tamil business communities in both countries. Alexander re-iterated this in his media interview.
He also remarked that in the event of the Conservative Party being returned to power, the new Government will provide many more facilities and encouragement to the upcoming Tamil business community. He pointed out that a glance at the Tamil Business Directory will reveal to what extent the Tamil business community has grown in Canada specially by the encouragement and incentives provided by the Government in power.
He emphasized that the Government will also take steps to expand bilateral trade that will benefit the business community. He further stated that the Canadian Government will provide additional aid and assistance for rehabilitation work in Sri Lanka.
(Input from Lankasri)