"Canada can offer expertise to  the UN proposed hybrid court on violation of human rights in Sri Lanka", says Scarborough Rouge – Park  Liberal candidate Gary Anandasangaree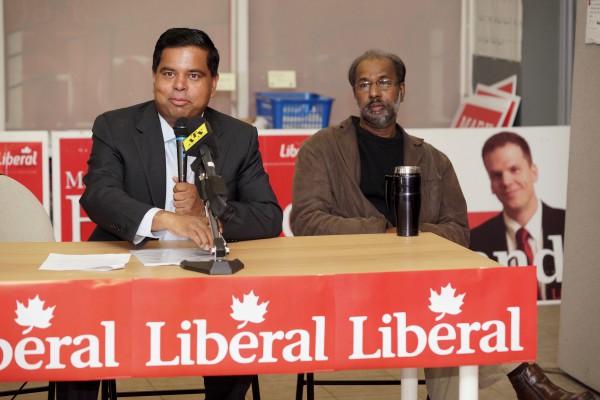 Gary Anandasangaree, (Liberal Party candidate for Scarborough – Rouge Park) and Professor Cheran addressing the audience
                       By Siva Sivapragasam
The Liberal Party candidate for Scarborough Rouge Park Gary Anandasangaree told a crowded  Tamil community forum meeting held on October 3rd that Canada has the required expertise to offer advice to the UN proposed hybrid court that is to be set-up to inquire into the violation of human rights during the last stages of the Vanni war.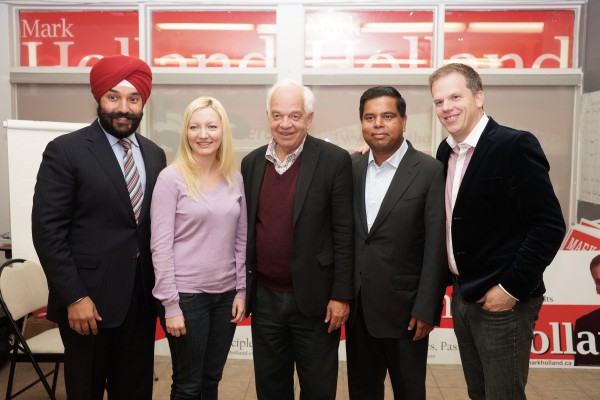 Left to Right – Liberal Party candidates: Navdeep Baines (Missisuaga-Malton), Jennifer O'Connell (Pickering-Uxbridge), John McCallum (Markham-Thornhill), Gary Anandasangaree (Scarborough Rouge-Park), Mark Holland (Ajax)
The community meeting was held by Gary Anandasangaree, Liberal Party candidate for Scarborough Rouge – Park, Mark Holland, Liberal Party candidate for Ajax and members of Team Trudeau with the Tamil community and the Media to discuss the UN Resolution on Sri Lanka, the UNHRC Report and Canada's role in moving it forward. The meeting took place at the campaign office of Mark Holland, the Liberal candidate for the Ajax riding.
Speaking further, Mr. Anandasangaree added that countries like Canada should also monitor the progress of the hybrid court to ensure that the recommendations of the UNHRC are carried out in a timely manner to ensure justice to the war affected victims.
Mr. Anandasangaree has been in the forefront in attending throughout the Geneva sessions of the UNHRC on the violation of human rights during the war and offering valuable advice. Gary Anandasangaree is an internationally recognized human rights lawyer and community activist who had advocated tirelessly for education and justice. He is seeking federal election for the Scarborough Rouge – Park riding as a Liberal candidate.
Professor Cheran from the University of Windsor who also spoke traced briefly the UN resolution episode and stated that the final resolution adopted has both merits and defects. He welcomed the participation of foreign judges, lawyers and investigators in the judicial mechanism. Dr. Cheran is the Associate Professor of Ethnicity, Migration, Racialization, Identity and International Development at the University of Windsor. Dr. Cheran is an academic, poet, playwright, journalist, and public intellectual.
Both Anandasangaree and Cheran answered several questions asked by the audience.
(Picture Courtesy – Perinbam@ekuruvi)