(Social Movement Activism and the Sri Lankan Tamil Diaspora in Canada)
Author: Amarnath Amarasingam
Publisher: University of Georgia Press
Reviewed By Siva Sivapragasam
The complexity of Tamil politics in Sri Lanka led the Tamil diaspora in the international arena take a centre stage in actively engaging itself with the turn of events in the home country. It was therefore not surprising that the Canadian Tamil community which represented the largest number of Tamil migrants became most involved in the Tamil politics of Sri Lanka.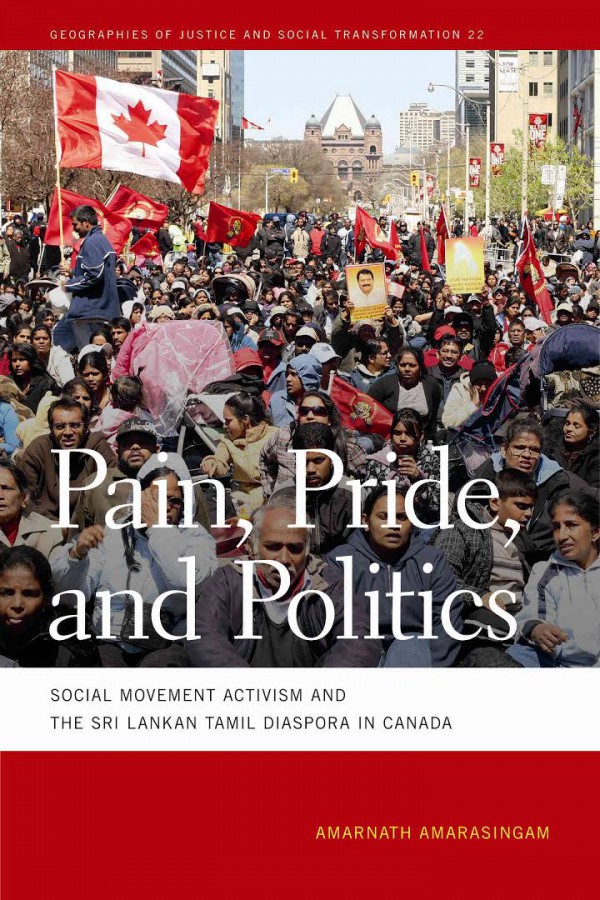 Amarnath Amarasingham's book suitably titled "Pain,Pride,and Politics" is an account of how the Tamil diaspora in Canada reacted to the chain of political events that unfolded in Sri Lanka. It is a clearly documented case study of Sri Lankans in Canada and their reactions to the changing events in Sri Lanka's Tamil politics. The contents in his book provides an in-depth study of how a separatist socio-political movement that began in Sri Lanka was carried forward in Canada and during the course of it's history was changed and altered by the diaspora.

The book will interest not only those interested in Tamil diasporic politics in Canada but would also interest any reader wanting to know broader trends in diasporic social movements.
The author Amarnath Amarasingam is the Social Science and Humanities Research Council of Canada Post Doctoral Fellow in the Resilience Research Centre at Dalhousie University, Professor of Religion at Wilfred Laurier University, and lecturer at the University of Waterloo.His research interests are in diaspora politics, post-war reconstruction, surveillance, social movements, radicalization and terrorism, media studies, and the sociology of religion.
The author pinpoints that Canadian Tamil diasporic politics is directed as much by the cultural and organizational developments of the diaspora as it is by events in the homeland. It is clearly evident that Amarasingam has carried out extensive interviews with a variety of persons who have been involved in the complexed Tamil problem giving the contents of the book a true account of investigative journalism.
The author can certainly take pride that he has taken much pain in providing a detailed account of Tamil politics in Sri Lanka and it's chained reactions among the Tamil Canadian community. In this respect, the book becomes a must read for every Tamil migrant here in Canada.
The book is available for purchase online by accessing the Publisher's website WWW.UGAPRESS.ORG
Click to ORDER from AMAZON: http://amzn.to/1IDGFxU