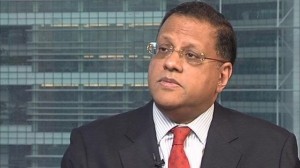 By Siva Sivapragasam




Sri Lankan-born international banker Arjuna Mahendran has been appointed as the new Governor of the Central Bank of Sri Lanka.
Governor Nivard Cabraal resigned last Friday shortly before Maithripala Sirisena was sworn in as President and Ranil Wickramasinghe of the United National Party as Prime Minister.
Mahendran was the head of the island's Board of Investment (BOI) under a previous government headed by Ranil Wickramasinghe and has been with international lenders including Credit Suisse, HSBC as well as Sri Lanka's central bank.
He has nearly 30 years of extensive experience in the financial services industry across Asia, serving in both private companies and public sector organizations, and holds a Master of Arts in Philosophy, Politics, and Economics from the University of Oxford.
He is at the moment chief investment officer at Dubai-based Emirates NBD's wealth management arm. Arjuna Mahendran is the son of C. Mahendran, a veteran diplomat of the Sri Lankan Overseas service.