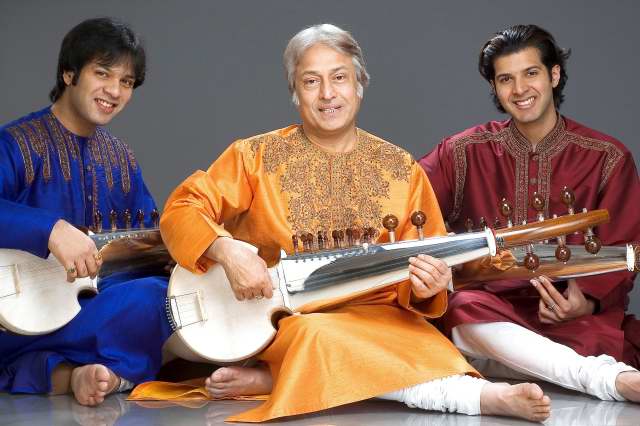 World renowned masters of the stringed instrument Amjad Ali Khan and sons Amaan & Ayaan Ali Khan, perform together for only night only!
Ustad Amjad Ali Khan, one of India's greatest living musicians and the leading exponent of the 19-string lute-like sarod will appear live on stage at the Flato Markham Theatre.  The legendary performer will be joined by his sons, Amaan Ali Khan and Ayaan Ali Khan for what is certain to be an evening of stirring harmonies and complex rhythms that speak directly to the heart. Also joining this performance will be two brilliant percussionists, Issa Malluf, on the Arabic/Middle Eastern percussion, and Vineet Vyas on the Tabla.  The Sarod Project takes place at the Flato Markham Theatre on Sunday, February 8, 2015 at 8:00 p.m.
This exquisite concert will feature three segments:  1) Solo by Amjad Ali Khan showcasing the music from different regions of India and the Middle East, 2) Sarod Duet by Amaan Ali Khan and Ayaan Ali Khan performing a traditional raga, 3) This segment showcases the living tradition that has been passed down from father to son for generations. "Music is the greatest wealth in our family," says Amjad Ali Khan.
Ustad Amjad Ali Khan is the sixth in an uninterrupted lineage of music masters said to have founded the great sarod traditions. Amjad Ali Khan was only six years old when he gave his first sarod recital. After his debut, the career of this musical legend took off, and the Indian classical music scene was witness to regular and scintillating bursts of raga supernovas. He was born to the illustrious Bangash lineage rooted in the Senia Bangash School and studied with his father and guru, the great Haafiz Ali Khan. Today he shoulders the sixth generation inheritance of this legendary lineage — and his sons, who perform with him, belong to the seventh generation.
He has done far more than simply preserve the impact, beauty, and legacy of the sarod; Ustad Khan has single-handedly elevated the sarod to one of the most popular instruments in the Northern Indian tradition. By striking the delicate balance between innovation and respect for a timeless tradition, he has given it new dimension and texture. The sarod is a string instrument that resembles a lute and is known for its deep, weighty, introspective sound with its sympathetic strings that give it a resonant and reverberant quality.
His devotion to the sarod and love of the ragas — traditional melodies — has led to a global fan club that includes the likes of His Holiness The Dali Lama, Prince Charles, and United Nations Secretary-General Ban Ki-moon. He has made countless international festival appearances and has performed in the most prestigious of venues from Carnegie Hall to Sydney Opera House to Royal Albert Hall.
An interesting aspect of Indian classical music presented in Markham will feature five people on stage, who do not know what the other is going to do and yet have to perform like a rehearsed orchestra.  Amjad Ali Khan says, "Our role as performers is really that of three people: performer, composer, and conductor." Three in one!  Along with sarod and tabla, you will hear the tanpura.  The tanpura is a drone instrument tuned to the true tonic that provides the harmonic foundation on which the music rests.
Presenting sponsor ATN-Asian Television Network; Media Support: Update Weekly, Weekly Voice, MyBindi.com and Small World Music.  Artist accommodations provided by Homewood Suites. The signature 14♦15 Diamond Series Season is presented by Weins Canada.   

The Sarod Project: Sunday, February 8, 2015, 8 p.m.;
Tickets: $64 – $59
Visit www.markhamtheatre.ca or call 905-305-SHOW (7469)
For more info, please contact:
Andrea Smitko, Events Promotions Assistant, Flato Markham Theatre
(905) 415-7537 ext. 5700 / asmitko@markham.ca
For more information about the Flato Markham Theatre, please contact:
Wendy Woof-Severn, Marketing & Development Manager
(905) 415-7537 ext. 5580 / wwoof-severn@markham.ca
The Season Media Sponsor is the Markham Economist & Sun. Media Partners also include:
Asian Television Network (ATN), Rogers TV, Today Commercial News, York Media Group, JAZZ.FM91, Classical 96.3FM, AM740, The Jewel 88.5FM, Durham Radio, Wave.FM, Update Weekly, and Fairchild Radio AM 1430.

About Flato Markham Theatre:
Flato Markham Theatre is a jewel in the crown of the Markham community located only 30 minutes from the downtown core. The intimate, 527-seat, state-of-the-art performance facility provides patrons with unforgettable access to a host of internationally acclaimed artists and productions through its annual Diamond Series Season presented by Weins Canada. Illuminating the central theme that live arts in Markham matters, the season features the best of classical, jazz, world music, dance, comedy, pop artists, and family entertainment. Flexible ticket package options and complimentary parking are available.

About Markham:
Markham, a municipality with more than 330,000 residents centrally located in the Greater Toronto area, is home to 400 corporate head offices and 900 high tech and life science companies. Founded in the 1790s, today Markham is Canada's most diverse community, enjoys a rich heritage, outstanding community planning and services, and a vibrant local economy. Markham has received the Excellence Canada PEP III Integrated and Accessibility Awards, and multiple heritage and environmental awards. Markham is proud to be an official Host City for the 2015 Pan American and Parapan American Games.