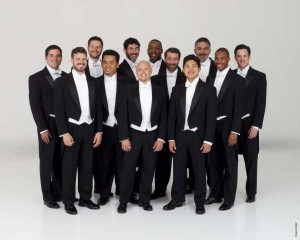 "The singing of Chanticleer is breathtaking in its accuracy of intonation, purity of blend, variety of color and swagger of style." – The Boston Globe 
Known the world-over as "an orchestra of voices" Chanticleer is a multiple Grammy Award-winning ensemble whose repertoire spans ten centuries, from Gregorian chant, to Renaissance polyphony and Romantic art song, to contemporary music, jazz, spirituals and world music.  They are scheduled to perform on Wednesday, January 28 at 8 p.m.
Based in San Francisco Chanticleer has enchanted the world with its seamless harmonies and captivating vocal arrangements. Comprised of 12 male vocalists the group performs approximately 100 concerts annually across the globe, appearing regularly in New York, Boston, Los Angeles, Washington, DC, Chicago, and Paris. They've recorded more than 30 albums for Teldec/Warner Classics & Chanticleer Records and in the year 2000 won a Grammy Award for Best Small Ensemble Performance (with or without Conductor) for their record "Colors of Love".  In 2003 the group won Grammy Awards for Best Classical Small Ensemble and Best Classical Contemporary Composition for the world-premiere recording of Sir John Tavener's "Lamentations and Praises".
In 2008 Chanticleer was named Ensemble of the Year by Musical America in and was inducted in the American Classical Music Hall of Fame, and reached the pinnacle of success as one of Billboard magazine's Top 10 best-selling classical artists.
Their 2014/2015 tour will be their 37th musical pilgrimage and the Flato Markham Theatre is delighted to have the group perform their diverse and riveting repertoire this January.
The media partner for Chanticleer is Classical 96.3 FM.
Chanticleer: Wednesday, January 28, 2015, 8 p.m.;
Tickets: $69 – $64
Visit www.markhamtheatre.ca or call 905-305-SHOW (7469)
For media images and clips or to arrange an interview, please contact:
Andrea Smitko, Events Promotions Assistant, Flato Markham Theatre
(905) 415-7537 ext. 5700 / asmitko@markham.ca
For more information about the Flato Markham Theatre, please contact:
Wendy Woof-Severn, Marketing & Development Manager
(905) 415-7537 ext. 5580 / wwoof-severn@markham.ca
The Season Media Sponsor is the Markham Economist & Sun. Media Partners also include: Asian Television Network (ATN), Rogers TV, Today Commercial News, York Media Group, JAZZ.FM91, Classical 96.3FM, AM740, The Jewel 88.5FM, Durham Radio, Wave.FM, Update Weekly, and Fairchild Radio AM 1430.
About Flato Markham Theatre
Flato Markham Theatre is a jewel in the crown of the Markham community located only 30 minutes from the downtown core. The intimate, 527-seat, state-of-the-art performance facility provides patrons with unforgettable access to a host of internationally acclaimed artists and productions through its annual Diamond Series Season presented by Weins Canada. Illuminating the central theme that live arts in Markham matters, the season features the best of classical, jazz, world music, dance, comedy, pop artists, and family entertainment. Flexible ticket package options and complimentary parking are available.
About Markham:
Markham, a municipality with more than 330,000 residents centrally located in the Greater Toronto area, is home to 400 corporate head offices and 900 high tech and life science companies. Founded in the 1790s, today Markham is Canada's most diverse community, enjoys a rich heritage, outstanding community planning and services, and a vibrant local economy. Markham has received the Excellence Canada PEP III Integrated and Accessibility Awards, and multiple heritage and environmental awards. Markham is proud to be an official Host City for the 2015 Pan American and Parapan American Games.